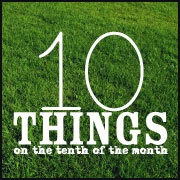 Welcome back to the second month of Ten on 10. This month is a quick list for me.
Ten reasons I haven't blogged lately.
1. Trying to get back into our routine after long holiday weekend.
2. Catching up on much needed house work.
3. Ants in the laundry room. Deep cleaning of laundry room because of the ants.
4. Staying on track with on-line classes (Finding Photo Freedom, Mother LOAD and OLW).
5. In-laws in town.
6. My mom goes back down south next week - spending extra time with her.
7. Weather has been great - playing with kids.
8. Decided to run my first 5K - been running everyday.
9. Went scrapbooking on Friday night.
10. Family wedding on Saturday night.
I have a lot of material to blog about I just need to find the time to get the photos uploaded and some writing done. Come back soon to see if I've gotten back on schedule. Thanks for stopping by.
If you would like to join in stop by
Shimelle's
blog to play along.