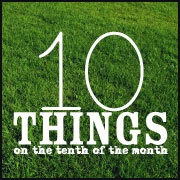 I've been thinking off and on about my One Little Word, DEFINE, the past few weeks. I've been looking at what things define me and I thought it would be fun to do a list of 10 names I'm often called.
10. Mrs. Burglar (this is not my last name, but most people pronoun it this way)
9. Hey You! (what can I say)
8. Ma'am (I hate this, makes me feel old)
7. Mrs. B (using my correct last name)
6. so and so's Mom (where so and so is add one of my three boys names)
5. Mrs. Monica (my kids close friends call me this)
4. Monica (for obvious reasons)
3. Darling (my mom calls everyone Darling)
2. Boo (my husbands nickname for me - long story)
1. Mom (25-50% of the time this is said in a whiny voice)
So what unique names define you??
Thanks for stopping by.